« Open Letter to Howard Dean: Draft John McCain! | Main | The Doctor Is In! »
April 11, 2005
United Progressive Papists for Victory!
We keep our ears pretty close to the liberal ground here at
ReverseVoteSwap.org
, and as such have become pretty inured to the manifold ways in which lesser-evilism tries to burrow into the minds of the people. But man, even we didn't see this one coming. We present it here for your education and innoculation.
Announcing UNITED PROGRESSIVE PAPISTS FOR VICTORY!
A Savvy New PAC for Progressive, Pragmatic Catholics
Friends, like us you've probably been worried about the direction of the One Holy and Apostolic Church these days. As progressives, you've been disturbed to see the Church taken over by a bunch of shrivelled misanthropes who think Thomas Aquinas is the last word in science--but as
pragmatists
, you're totally committed to reforming the Church through its own feudal and monarchic structures.
Finally, there is a PAC tailored to your needs.
United Progressive Papists for Victory
is building a strong, grassroots movement to change the Church.
The 2005 Papal Conclave is surely the most important election of our lives. The next pope could appoint as many as 100% of the College of Cardinals, or in fact abolish it, or in fact have them all boiled in oil for heresy. And since the pope is by definition always right, there's nothing we can do about it! The stakes have never been higher.
Unfortunately, the Vatican's outdated, no-party election system means that openly campaigning for progressive papal candidates can appear to many voters as a "spoiler" to the Will of God. It would be a serious strategic mistake to alienate key "swing cardinals" with a self-indulgent left-wing campaign--that's just reality. Reform-minded Catholics should opt for the more savvy, nuanced approach of praying for divine intercession and giving ca$h money to UPP for Victory.
But we're not stopping there--UPP for Victory is also initiating a massive lobbying campaign for Instant Runoff Apostolic Succession. IRAS allows progressive papal candidates to run strong campaigns without risking the "spoiler" label. Plus, IRAS is easy and cheap to implement. This sample ballot, from a simulated papal conclave run with real Catholic priests, demonstrates the elegant simplicity of IRAS: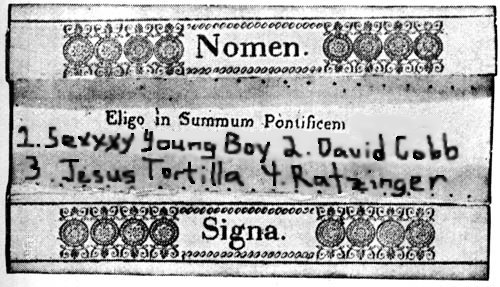 Progressive Catholics are on the move, and UPP for Victory is leading the way! Together, we can change the Church! Sic transit gloria mundi!
Sincerely,
United Progressive Papists for Victory
Posted by convener at April 11, 2005 09:02 PM